Lodha Group is bringing another amazing residential project by the name of Lodha Amara. The project has amazing infrastructure and spectacular views. This wonderful project promises a happy and fulfilling lifestyle for its residents. This residential project features wide roads, beautiful views of the river and spectacular greenery.
Launched after the Success of the Lodha Big Bang
The Amara has been launched by Lodha Group after the amazing success of the Lodha Big Bang. The Big Bang project was one of the most successful residential projects launched not only in the region but also in India. Lodha Amara saw submission of more than 1000 applications for booking in the first 9 days. This is amazing when one looks at the 1500 total number of units that could be allocated.
Location of Lodha Amara
Amara enjoys amazing location on Kolshet Road in Thane. It is located in the Prime Central Thane. The location is close to numerous excellent quality hospitals, schools and educational institutions of amazing standards, marvelous shopping malls and countless business and investment opportunities. The area enjoys amazing infrastructure and is one of the fastest growing areas in the region. It is expected that this area will see mammoth growth in the coming years and there will be huge appreciation in the prices of the real estate in this area.
Sizes & Cost of Residences
The residential units in the Lodha Amara residential project are 1 BHK, 2BHK and 3BHK. These are available at very affordable prices starting from only 58.7 Lac Rupees.
In the heart of Prime Central Thane, is a unique living experience inspired by some of the world's most celebrated urban neighbourhoods.
Its name, drawn from the Sanskrit 'Amar', meaning eternal, signifies everything that Amāra stands for – the eternal dream of a perfectly balanced life, that's now a vivid, wonderful reality.
In Amara, a lush 40-acre oasis in the fast-growing metropolis of Thane, yours is a life brimming with rich experiences, and the time to savour them. Pursue your passions, enjoy time with friends, bond with family and community, be one with nature. Even while you're just minutes away from the business hubs and urban attractions of Thane.
Amara is being developed by the Lodha Group, India's finest developers, in partnership with India's most celebrated architect, Hafeez Contractor, and Sitetectonix, one of the world's leading landscape design firms. Could you ask for more?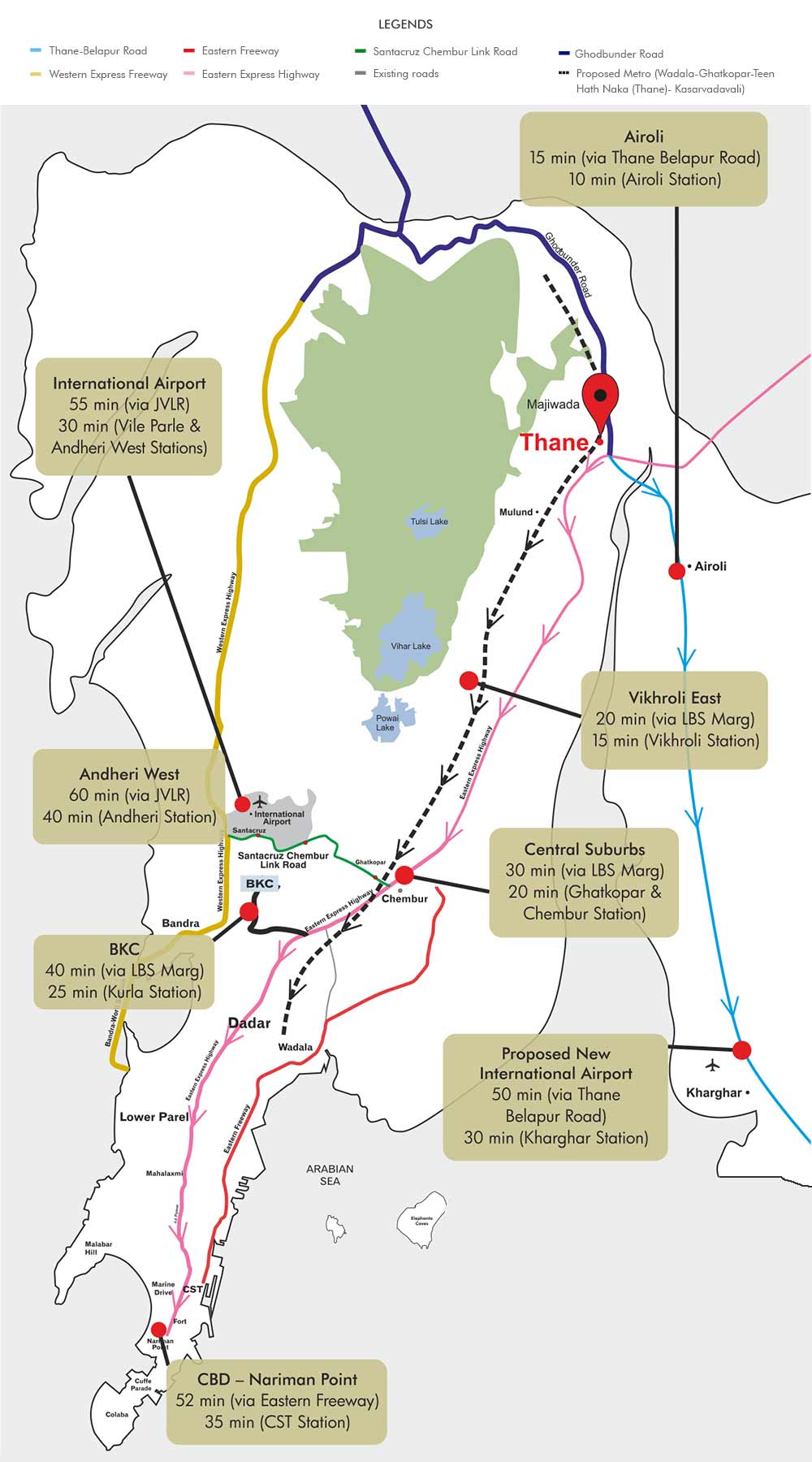 Every breath you take is purer, fresher, clearer
Thousands of ancient trees bequeath you with life-giving oxygen, and a landscape that's virtually car-free, offers you the cleanest environment in the city. With an Air Quality Index of 63, as against 203 in Mumbai city,* breathe in the privilege of good health and energy at Prime Central Thane.
Never Have Homebuyers Been Offered So Much, For So Little
Lodha presents a rare opportunity to buy a luxury home at its new neighbourhood in Thane – Mumbai's prime suburb – at an incredible price.
Located minutes from the Eastern Express Highway and Pokhran Road, this neighbourhood provides easy access to some of the city's best malls, schools and hospitals.
Spread over 40 acres (85% of which comprise of open spaces), its lush landscape offers a lifestyle rarely experienced in cities, and the purest air in Mumbai.
Here, you can live in air-conditioned homes, designed with world-class finishes by India's finest architect. You will also be just a 15-minute drive from IT and corporate parks that offer over 1 lac jobs – including the new TCS campus. Which means, you'll enjoy great rental returns and capital appreciation. This is an opportunity you don't want to miss.